I have just finished reading '
I am Zlatan
'. I recommend every football fan reads it. So much so that I am going to dedicate an entire post to the man.
Firstly, here are a few interesting things from his autobiography for those of you too lazy to read:
It takes until the 2nd page for Ibra to say 'I am awesome'
When he was in his youth, Zlatan used to steal bikes, a lot
He once threw an egg at a prostitute, and hit her in the head
He doesn't like Pep Guardiola
He does like Capello and Mourinho
When Patrick Vieira joined Inter Milan, the 1st thing Zlatan said to him in training was "give me the fucking ball!"
He had a training ground fight with Oguchi Onyewu -

'Onyewu resembled a heavyweight boxer. He was nearly 6ft 5in and weighed over 15 stone, but he

couldn't

handle me'

After winning Serie A with AC Milan he kicked Antonio Cassano in the head to celebrate
The list could go on...
Until recently, Ibrahimović has often been seen as over rated in the UK, I think the stats speak for themselves:
Games: 643
Goals: 326
Titles: 20 (although two were revoked in the Juve match fixing scandal)

The man has a combined transfer value of £150m
He has scored for 6 different clubs in the Champions League, a record
He has scored in El Clasico and the Milan derby (for both Inter and AC)
He has won the league title in Holland, Italy, Spain and France
He has been voted the Swedish footballer of the year (Guldbollen) 8 out of the last 9 years
Ibrahimović must be one of the very few footballers that has
YouTube compilations purely dedicated to back heeled goals
. Including this, which was scored in the final game of the season to clinch the golden boot (k
nown as the
Capocannoniere in Italy), out scoring Diego Milito and Marco Di Vaio. Smooth operator.
He is also probably the only footballer to have their name in the dictionary, with 'zlatanera', meaning 'to dominate' being added to the Swedish dictionary in 2012.
He isn't just taking over the dictionary in Sweden, he is also taking over the postal service. With a Zlatan stamp to be released in Sweden on 27th March 2014. This is what he had to say on the matter "I get a lot of bills and there are rarely great stamps. Maybe that will change now!". Modest as always.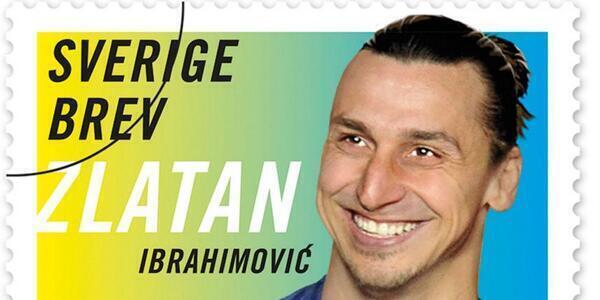 Not only does the man have vocabulary, stamps and titles in his locker. He also has a great array of facial expressions
'The many faces of Zlatan'
But don't be too intimidated by the great Swede, he is human...