When it comes to football, I have two clubs. My beloved Swansea City, and Spanish side
Real Oviedo
. after I 'hopped on the bandwagon' and bought a single share in the club last Autumn.
I am a Swansea fan first, however I have been keeping an eye on Real Oviedo and have been streaming games when I can and am happy to see them competing in the play-offs at the moment.
The connection between the clubs isn't just that I support both of them. But the similarities in their stories is uncanny. Both clubs have had impressive previous seasons in their countries respective top flights. Followed by downward spirals resulting in almost a complete collapse in the clubs themselves. Only for both clubs to be saved by the fans.
For Swansea this happened almost a decade ago, whereas for Oviedo it happened just last year.
Instead of going into detail about each story, these two documentaries sum up what has happened to both clubs, I hope you have a tissue ready as both are emotional affairs.
The Real Oviedo Story
The Fall and Rise of Swansea City
So if Real Oviedo fans ever need inspiration, the Swansea City story should prove sufficient. And perhaps in 10 years or so Real Oviedo will be back in La Liga playing against the likes of Barcelona and Real Madrid and lifting the Copa Del Rey!
With Swansea having a Spanish influence in both their squad and their philosophy (first introduced by
Roberto Martinez
) it is again easy to see similarities. However the real Spanish connection has to be Swansea's season sensation Michu, a product of the Real Oviedo academy.
Michu
scored an impressive 22 goals during his debut season in England and has caught the eye across Europe. He himself is a shareholder in Real Oviedo and has stated that
he'd like to retire at Oviedo
, similar to how
James Thomas
came to Swansea, his hometown club, to help the Swans survive dropping out of the football league in 2002.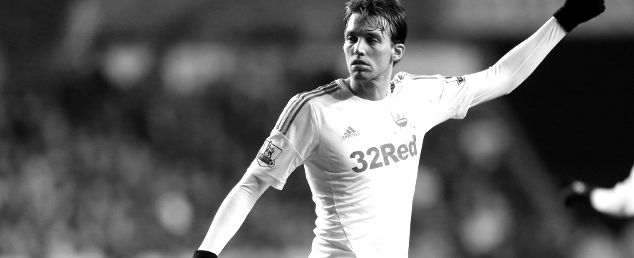 If Real Oviedo do manage to achieve their dream of becoming a La Liga side once more, and Swansea continue to progress, who knows, perhaps one day they will play against each other in the Europa Leauge - or even the Champions League...