It's that time of year again. Oh yes, I am now going to discuss what I view as the top ten transfers to happen during this years chaotic summer transfer window!
The transfers won't just be from 'The Best League in the World'
™
but from across the globe (well... mostly Europe).
P.S. If you are expecting Fabregas to be in here, don't. We've had three years of constant Cesc to Barcelona stories and i'm fed up with the whole story. Good luck to the lad, but good god were the rumours tedious. 'Rant' over, here we go!
10. Vicente
Valencia - Brighton & Hove Albion (Free Transfer)
Although I don't think this transfer has been fully completed (as a free transfer it can be completed outside the transfer window), if it does happen it has to be one of the coups of the Summer. Unsure if it was the power of Poyet or just a big splash of cash that has lured the Spanish winger to the coastal club. With the experience that Vicente has it's a real quality signing, over 300 games in La Liga and 38 caps for Spain. Don't think many other Championship players will be able to boast as an impressive record.
9. Michele Vorm
FC Utrecht - Swansea City (£1.5m)
With Dorus De Vries leaving Swansea in the Summer for Wolves on a free, Swansea were in need of a new goalkeeper, with only limited funds to offer. Brendan Rodgers searched and scoured Europe for the 'keeper to fit into Swansea passing, possession style of play and plucked out Vorm. What. A. Signing. Three man of the match performances in 3 PL games as well as several top class saves (including a penalty save) have given Swansea their first points in the Premier League. He is going to be a busy man this season, and pivotal in Swansea aim of survival.
WHAT A SAVE!!
8. Miroslav Klose
Bayern Munich - Lazio (Free Transfer)
The German World Cup goal machine made a switch to Lazio which seemed to go a little under the radar. Never really set the Bundasliga alight whilst at Bayern, but judging by his international performance he clearly still has that goal scoring touch. In his first game for the Italian club he managed to score one goal and set up a staggering four others in a simple 6-0 victory over Rabotnicki. Potential Seria A top scorer...
7. Samuel Eto'o
Inter Milan - Anzhi Makhachkala (£21.8m)
This transfer is not here because it is a good bit of buisness for Anzhi, £20 odd million for a 30 year old seems a bit steep, nor is it here because it is a great move for Eto'o, I don't know much about the Russian Leagues, but I imagine they are some way off the tope leagues of Europe that Eto'o is used to. This transfer is here because of the truly absurd amount of money that young Samuel is making from it. The Cameroonian is rumoured to be earning an astonishing £300,000 a week, unsurprisingly making him the highest paid footballer on the planet. It's getting a bit silly now.
6. Manuel Neuer
Schalke 04 - Bayern Munich (£15m)
Forget De Gea, Neuer has joined German giants Bayern Munich for a slightly lower fee. Good business i'd say. The young German No.1 had a great World Cup and has been impressive for Schalke, currently I'd say he is better than De Gea although a couple of years older, he still has a long career ahead of him and should be one of Europe's best goalkeepers.
5. Bojan Krkic
Barcelona - Roma (£10.6m)
The young Spanish forward has left Barcelona in search of first team football, with Rome being his new home (for now). A confusing deal, with Barca having the option to buy him back in two years for around £11.5m, however if Roma pay a further £25m then they cancel out the buy back clause. If he gets the game time he is sure to score goals, he would have been a star at Barca if it hadn't been for the likes of Villa and Messi. A potential rival to Klose for Serie A top scorer?
4. Maarten Stekelenburg
Ajax - Roma (£5.3m)
I appear to have a bit of a thing for Dutch goalkeepers here... But the Dutch number one, 28 years old, for £5m. Bargain! How no one else seemed to try and snap him up seems odd, and when others are paying £15-18m for goalkeepers it must make it all the sweeter for the staff at Roma. A top class safe pair of hands...
unless of course he is holding a trophy
.
3. Radamel Falcao
Porto - Athletico Madrid (£35m)
Starting on the podium positions, and first up is Colombian goal machine Falcao. Not only is this a key transfer as he is a prolific goalscorer and has been sought after by many top clubs. But it is also a key transfer for Athletico Madrid who have lost Aguero, Forlan and De Gea this summer. His goals will go someway to make up for those lost from Aguero and Forlan, but will they be enough?
2. Javier Pastore
Palermo - PSG (£37m)
PSG, fuelled with money by Quatar owners splashed the cash on last years Serie A young player of the year and Argentinian playmaker. In a transfer window where all the big clubs seemed to be chasing a player to play 'in the hole' PSG snapped up one of the brightest prospects in that position. Will be a key player in PSG's Man City esque spending spree in aim for French and European dominance.
1. Sergio Aguero
Athletico Madrid - Manchester City (£38m)
Predictable. Yes, but a player this good deserves to be first in my world renowned prestigious 'Top 10 Transfers' list. A hefty price but when you are Man City the cost of a player appears to be irrelevant. Made an annoyingly impressive debut against my beloved Swansea scoring two goals and setting up another once coming off the bench. The little rascal. No doubt that he will be terrorising Premier League defences (and not just Swansea's) for years to come.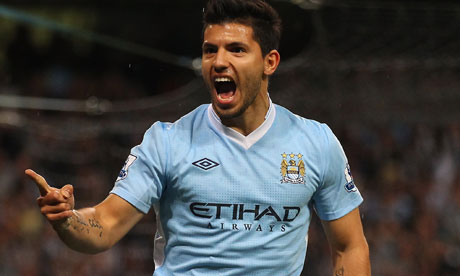 Aguero celebrating after hearing he grabbed the No. 1 spot on my blog...